MY00-01
What IMS bearing does my engine have?
From 1997 to 1999, Porsche use a dual row intermediate shaft bearing which has proven to be as robust as the larger single row used from 2006 through 2008 model years. The Eisen vs Porsche Class Action Lawsuit filed against Porsche over IMS failures revealed the factory Dual Row was much stronger than the Single Row used from 2000-2005. According to information published about the Eisen IMS Class Action Lawsuit, the single row IMS bearing used in 2000 through 2005 model years is reported to have an 8% failure rate, versus less than 1% with the dual row IMS bearing which has twice the load capacity of the single row bearing used by Porsche.

By far, the single row ball-bearing used starting in model year 2000 through 2005 are the most problematic. Although some claim the problem with the ims bearing is due to lubrication alone, with half the load capacity, it is clear to see that the reduced load capacity of the single row IMS bearing is a significant contributing factor to the increased number of failures and that oiling alone is not the cause or solution to IMS issues. If oiling was the main reason for failures, we would have expected an equal rate of failure for all factory IMS bearings, where the early dual and late MY06-08 bearings had a very low failure rate, approx 1%m under warranty.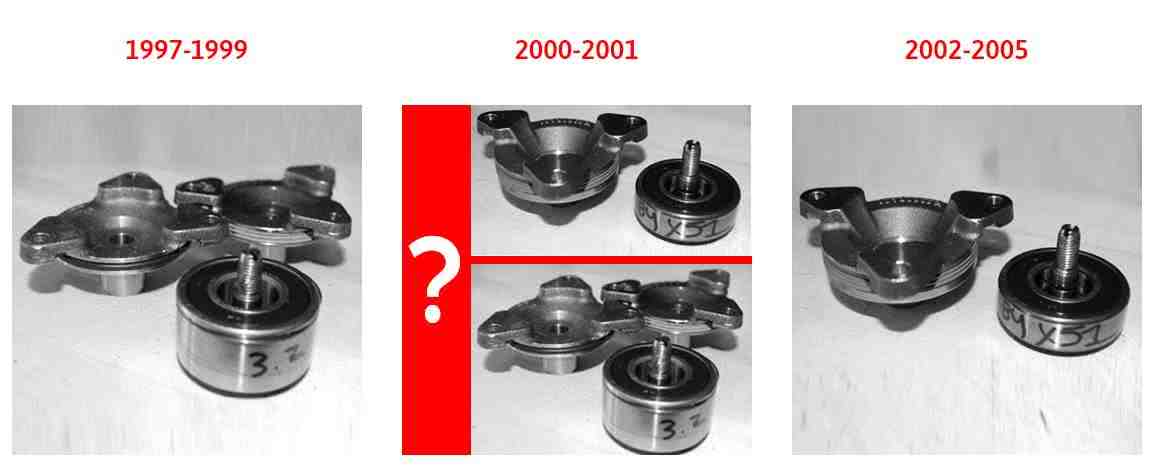 Starting in 2000, Porsche began phasing out the dual row bearing and went to a smaller single row, with significantly less load capacity. From 2002 through 2005, all engines used this smaller intermediate shaft bearing until they went to the larger, third revision for the 2006 model year, which increased the load capacity back to what the original dual row bearing could support. The larger model year 2006 and later bearing also increased the diameter, which increased the bearing and ball speed, further improving the bearing. However, this change has not been enough to resolve the IMS failure issues completely.
It is also important to note that if the engine has been replaced and is not original to the car, the engine will have whatever IMS what currently being used for the model year in which the engine was manufactured. Typically replacement engines will have an AT, X, or Y in the engine serial number, which is located on the side of the sump.
An engine fitted with a factory single row IMS bearing can be identified by measuring the original IMS flange dish depth. A single row IMS measures 19.27 mm where a dual row measures 13.34mm.